Search For 1 Bedroom Short Stay Apartments in Melbourne
1 Bedroom Short Stay Apartments Melbourne
Welcome to Melbourne Private Apartments, your home for luxury 1 bedroom short stay rentals in Melbourne. Since our establishment in 2015, we've been committed to providing not just a place to stay but a luxurious yet comfortable experience that makes you feel right at home.
Embark on a journey of exceptional value with our mantra: "The longer you stay, the less you pay." Discover exclusive savings with our specially reduced rates for stays exceeding 21 and 28 nights, ensuring your extended time with us is memorable and incredibly cost-effective.
Read More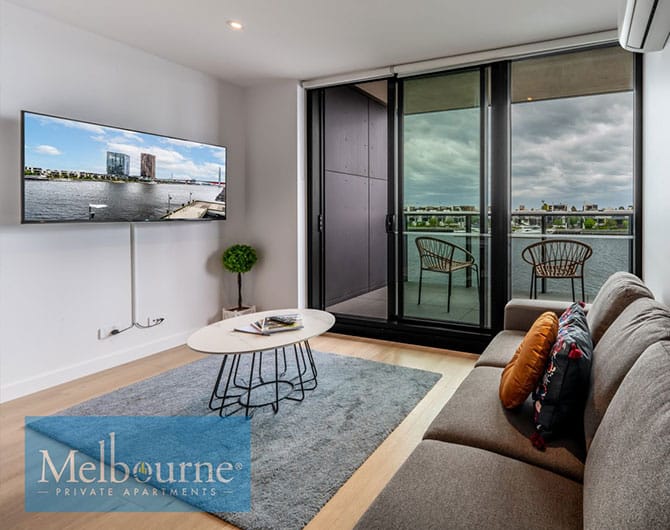 1 Bedroom Short Stay Apartments: Your Home Away From Home
At Melbourne Private Apartments, we go beyond providing a room. We create a comfortable home away from home experience for couples and solo travellers. Each of our fully furnished Melbourne short stay apartments is designed with a personal touch, offering private balconies with stunning views, making you feel comfortable and at ease during your stay.
We believe that luxury should be accompanied by convenience, and that's exactly what we offer in our 1 bedroom short stay apartments in Melbourne. Enjoy free wifi to stay connected to your work, friends, or simply browse the internet at your leisure. We understand that parking in the city can be a hassle, which is why we provide convenient free parking facilities for all our guests.
Read More
Exceptional Property Facilities: Adding Value to Your Stay
Melbourne Private Apartments takes pride in our luxury facilities, designed to provide our guests with a comprehensive living experience. Take advantage of the fully-equipped gym / fitness center, perfect for maintaining your fitness routine during your stay. After your workout, unwind in the steam room (only available at 915 Collins Street), an ideal place to relax and rejuvenate. For those who prefer a refreshing swim in a swimming pool, our indoor pool is available, providing a tranquil space to exercise or unwind, whatever the weather.
We further enhance your stay by offering free parking–onsite parking at that, ensuring stress-free and convenient access to your apartment and the surrounding city. All our 1 bedroom short stay apartments are designed to anticipate your every need, furnished with all the amenities to make your stay as comfortable and convenient as possible. Experience luxury living at its finest with Melbourne Private Apartments, where every detail is crafted for your comfort and satisfaction.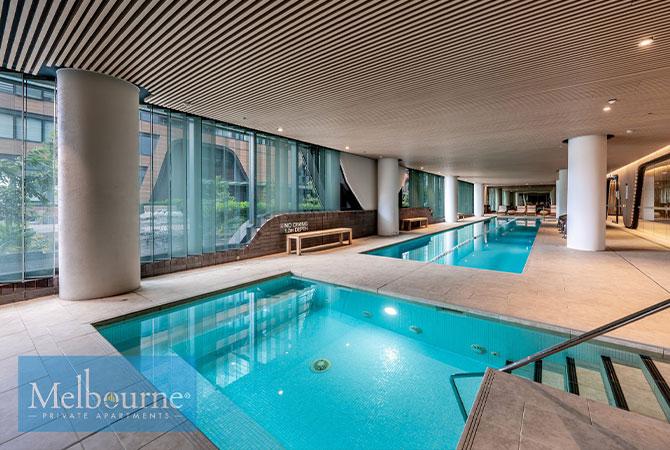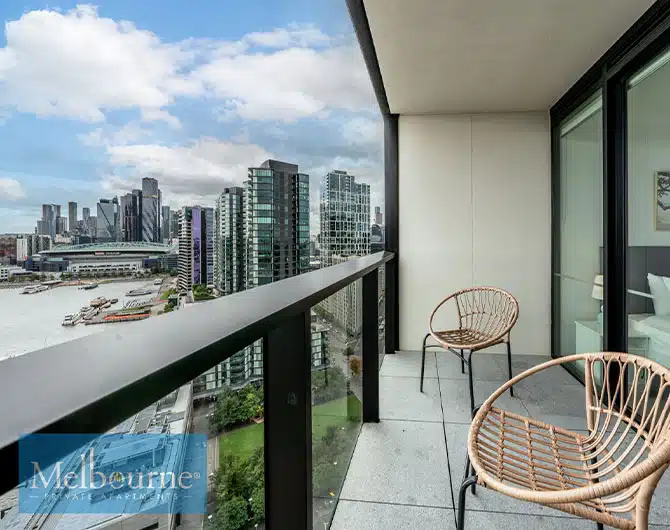 Benefits of Booking a 1 Bedroom Short Stay Apartment in Melbourne
Choosing a 1 bedroom short stay apartment with Melbourne Private Apartments opens the door to a host of enticing benefits designed to enhance your stay. From significant cost savings extended to those who choose a more prolonged visit to an enviable blend of luxury and comfort, every aspect of our service offering has been meticulously designed with your needs in mind. With our apartments, not only do you become part of Melbourne's vibrancy, but you also get to enjoy an unprecedented level of privacy and independence that truly sets us apart in the hospitality industry. Let's delve deeper into these benefits.
Tailoring Short Stay Accommodation for Varied Travellers
At Melbourne Private Apartments, we understand that every traveller is unique, each with their own specific needs and expectations. Our goal is to offer short stay accommodation that caters to this diversity, ensuring that each guest feels at home. Whether you're a business traveller seeking a productive yet comfortable stay, a family on an extended holiday wanting to make the most of your budget, or a new Melbourne resident looking for a soft landing in your new city, we have meticulously designed our services to meet and exceed your accommodation needs. Our commitment to excellence ensures we provide more than just a place to sleep – we offer a complete living experience.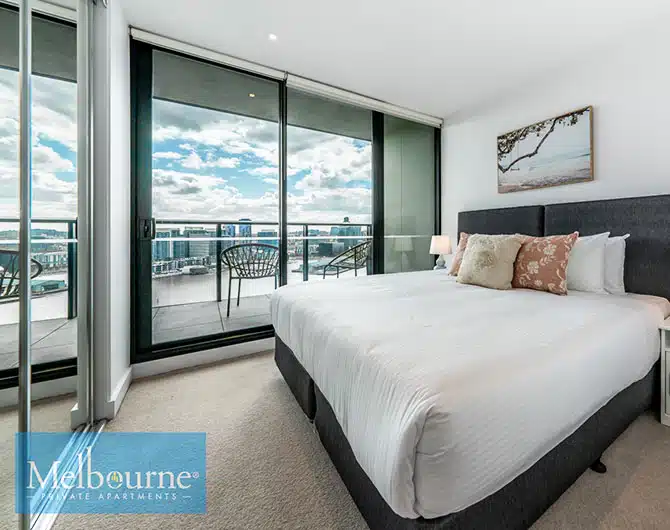 Seamless Short Stays for Work Visits

Seamless Short Stays for Work Visits

We understand that business travel requires a certain set of amenities to ensure productivity and comfort. That's why our Melbourne short stay apartments are designed with solo business travellers in mind. With free wifi in every apartment, you'll be able to stay connected and productive during your stay. Our strategic location in Docklands offers access to major business districts, ensuring a hassle-free commute. So whether you're in town for a meeting, conference, or a long-term business project, we've got your accommodation needs covered.

Affordable Luxury: Short Stay Accommodation for Extended Holidays

Affordable Luxury: Short Stay Accommodation for Extended Holidays

Planning a family holiday in Melbourne? Our centrally located short stay apartments offer an economical solution without compromising on comfort or convenience. The longer you stay, the more you save, allowing you to fully utilise your holiday budget. You and your family can enjoy the amenities and easy access to popular tourist attractions, shopping centres, and a plethora of leisure activities. Our spacious and fully self-contained one-bedroom apartments provide the perfect accommodation for guests looking to soak up the vibrant energy of Melbourne while enjoying the comforts of home.

Providing a Soft Landing for New Melbourne Residents

Providing a Soft Landing for New Melbourne Residents

Moving to a new city can be challenging, but Melbourne Private Apartments is here to ease that process. Our fully furnished short stay Melbourne apartments provide a comfortable and welcoming environment for new residents. Even better, our discounted rates for stays exceeding 21 nights, and additional discounts for stays of 28 nights or more, make settling into your new life more affordable. Beyond just providing a place to stay, we offer a sense of community and networking opportunities, allowing you to connect with fellow residents and explore the city together. Choose us for your short term 1 bedroom apartment in Melbourne and experience a warm, welcoming start to your new life in this vibrant city.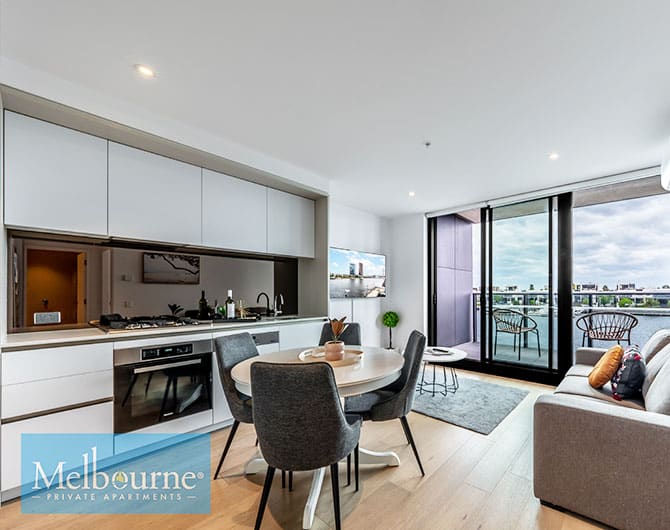 Why Choose Melbourne Private Apartments for Your Short Stay in Melbourne?
When it comes to finding the perfect accommodation for your short stay in Melbourne, making the right choice can make all the difference. That's where Melbourne Private Apartments comes in. With our unparalleled luxury, comfort, and convenience, combined with our prime location, we offer an experience like no other. Our premier Melbourne location in Docklands, near Melbourne CBD, puts you right in the heart of the action. With easy access to major shopping centres, world-class restaurants, and excellent public transport links, our 1 bedroom short stay apartments in Melbourne provide the ideal base for exploring the vibrant city. Plus, with Southern Cross Station just a short distance away, convenience is at your fingertips.
Allow us to walk you through the compelling reasons that make Melbourne Private Apartments your best choice for short stay in Melbourne, listed below.
Ready to Book a 1 Bedroom Short Stay Apartment in Melbourne today?
Ready to tailor your Melbourne experience to your specific needs? Explore our available short stay apartments and find the one that's just right for you. Don't miss out on the opportunity to experience Melbourne like never before. For reservations or any queries, feel free to contact us. We look forward to welcoming you to Melbourne Private Apartments – your gateway to an unforgettable Melbourne experience.
1 Bedroom Short Stay Apartment Rentals