Melbourne Private Penthouse Apartments
At Melbourne Private Apartments, you can find some of Melbourne's best penthouse apartments in some of the city's best suburbs. From the vibrant atmosphere of Southbank and the chic beachside living of St Kilda to the historic charm of Williamstown, we have hand-selected a selection of premium penthouse apartments with all the features and facilities you deserve for an unforgettable experience.
These penthouse apartments are all equipped with spacious bedrooms, generous living areas, and fully functional kitchens so that you can enjoy all the comforts of home without compromising on style or luxury. Each penthouse hire is conveniently located close to top attractions such as restaurants, entertainment options, and more, so your stay here will be truly special.
Take your holiday up a notch with one of our exclusive penthouses in Melbourne through Melbourne Private Apartments today! Make lasting memories in luxury accommodation while experiencing everything this vibrant city has to offer – book now!
Penthouse Apartments
The following Melbourne Penthouse Apartments are managed by other accommodation providers, external to Melbourne Private Apartments.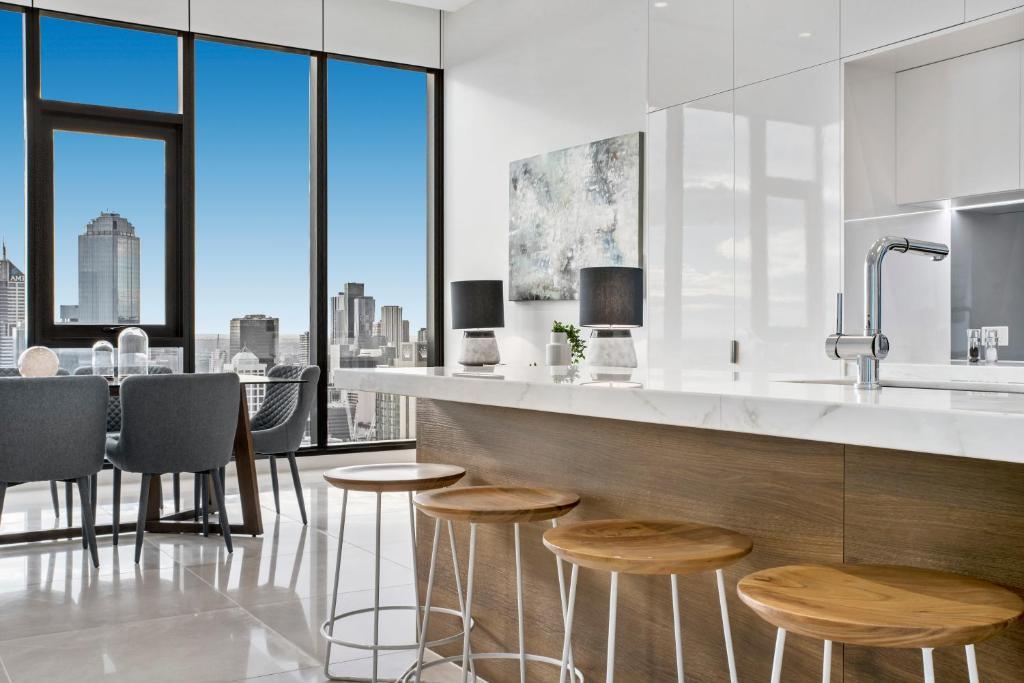 Why choose a penthouse apartment in Melbourne?
When holidaying in Melbourne, Melbourne penthouses provide the ultimate in privacy and comfort. Enjoy your own private sanctuary away from the hustle and bustle of a hotel; surrounded by all that Melbourne has to offer.
With our selection of luxurious penthouse apartments and 4 bedroom apartments Melbourne, you'll have access to state-of-the-art facilities like fully equipped kitchens, spacious living areas and comfortable bedrooms perfect for families or groups travelling together – and let's not forget, the best views in the building for the top floor! Penthouse apartments and penthouse suites provide unbeatable convenience being located within some of Melbourne's most sought-after suburbs – providing easy access to attractions, restaurants & entertainment options, making it one of the world's most vibrant cities!
So why not book your dream holiday by staying in a Melbourne penthouse apartment today? With our selection of private penthouses throughout Melbourne, you can find penthouse hire just right for you!