Search For 2 Bedroom Short Stay Rentals in Melbourne
2 Bedroom Short Stay Apartments Melbourne
Welcome to Melbourne Private Apartments, where luxury meets value in your home away from home. Dive into a world where extended stays become remarkably cost-effective with our unique principle: "The longer you stay, the less you pay." Unlock exclusive savings with our specially tailored rates for stays surpassing 21 and 28 nights, crafting an experience that marries unparalleled luxury with prudent financial savings.
Read More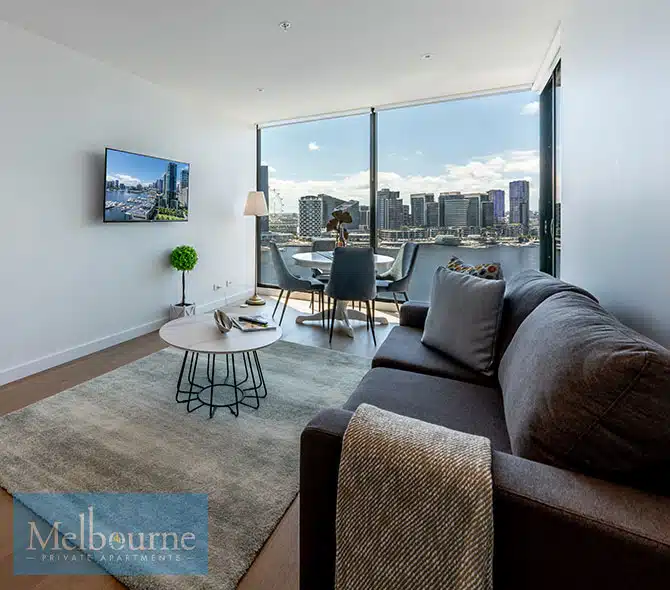 Explore our Range of 2 Bedroom Short Stay Apartments in Melbourne
At Melbourne Private Apartments, we understand that every guest's needs and preferences are unique. That's why we offer a diverse range of seven 2 bedroom apartment room types, each with its own charm and character. Whether you're drawn to stunning sea views, mesmerising harbour vistas, or tranquil riverscapes, we have something just for you.
With 2 bedroom apartments offering stunning sea, harbour, and river views, our apartments offer a comfortable short stays for up to six guests. Whether you prefer the calming allure of the sea, the vibrant energy of the harbour, or the serene beauty of the river, our apartments have something for everyone. Wake up to breathtaking views every morning and indulge in the luxury of spacious accommodation. We even have sky-high penthouse apartments and top-floor sub penthouse apartments for those after a luxury short stay experience. With spacious and separate bedrooms and bathrooms, our two bedroom apartments provide a relaxing retreat for your stay.
Dive into Our Luxury Amenities and Facilities
At Melbourne Private Apartments, we believe that your accommodation should be more than just a place to rest – it should be a place where you can truly unwind and enjoy the finer things in life. That's why we've equipped our short stay 2 bedroom apartments in Melbourne with a range of luxurious amenities and facilities, all designed to enhance your stay and make it as comfortable and enjoyable as possible.
Enjoy worry-free living with utilities included and the convenience of provided linen and towels. Our fully equipped kitchen lets you prepare meals while complimentary internet keeps you connected. Additionally, you can stay cool with air conditioning, relax on private balconies, and enjoy meals in the dining area. We also offer free parking for added convenience.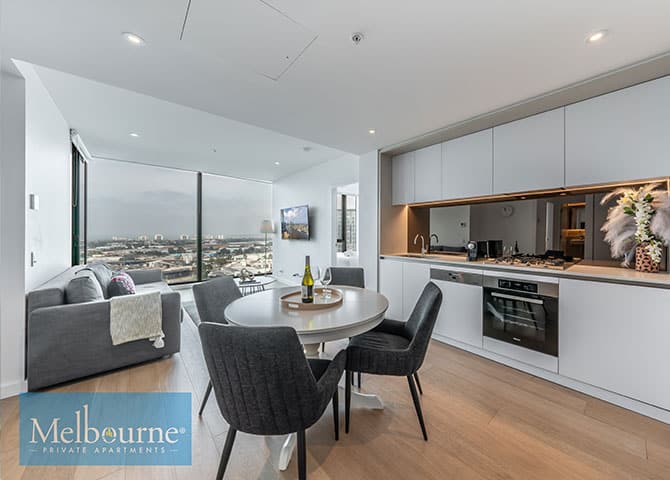 Short Stay Accommodation Designed with Modern Elegance and Comfort

Step into our Melbourne 2 bedroom short stay apartments to experience modern elegance and comfort. Each apartment showcases a stylish, contemporary interior with tasteful interiors and spacious living and dining areas. The separate bedrooms provide tranquillity with comfortable beds and ample storage. Whether travelling with family or friends, our apartments offer a perfect blend of style and comfort for an extraordinary stay.

Exclusive Facilities to Enhance Your Short Stay Experience

Exclusive Facilities to Enhance Your Short Stay Experience

We understand how important it is for you to stay connected and feel at home during your stay. That's why our 2 bedroom short stay apartments come with free wifi, allowing you to browse the internet or catch up on work at your convenience. The full kitchen, complete with a fridge, stovetop, dishwasher, oven, and microwave, gives you the freedom to prepare your meals whenever you wish. And with laundry facilities, including a washer and dryer in each apartment, you can ensure your clothes are always fresh and clean, adding to the convenience of your stay.

Indulge in Exquisite Short Stay Rental Facilities

Indulge in Exquisite Short Stay Rental Facilities

We go beyond just providing a place to stay. At Melbourne Private Apartments, we offer a range of luxury property facilities to enhance your experience. Take a leisurely dip in our indoor swimming pool, a perfect spot to relax after a day of sightseeing in Melbourne. If you're keen to keep up with your fitness routine, our fully-equipped gym fitness center is accessible whenever you wish. For some indulgent relaxation, our steam room (available at our 915 Collins Street property only) is a haven for rejuvenation. And to add to your convenience, we provide free parking so you can bring your vehicle and explore the city at your own pace.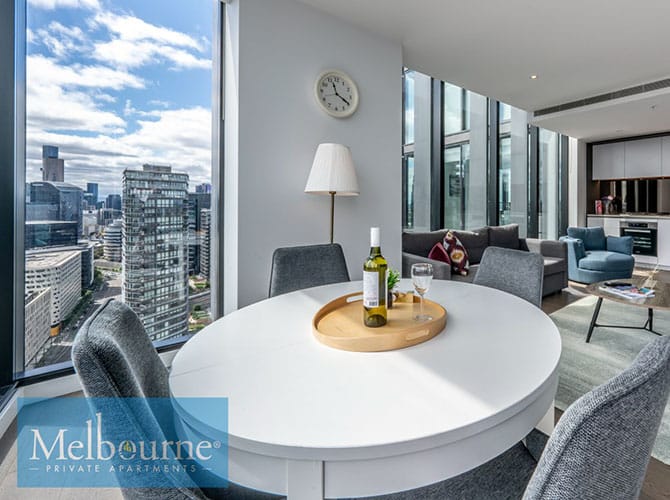 Reap the Benefits of Choosing Short Stay Apartments
Choosing short stay apartments for your stay in Melbourne carries a multitude of advantages tailored to fit your schedule, budget, and the need for a homelike ambience. At the forefront are the  discounted rates for stays of 21+ nights, with even greater savings for reservations lasting 28 nights or more. The longer you stay, the less you pay. Choosing Melbourne Private Apartments means exceptional value and a smart stay in Melbourne. Enquire about rates for stays over 21 or 28 days today.
As you delve into this section, we'll uncover the added benefits of selecting Melbourne Private Apartments as your temporary home, which include flexibility, economical choices, and a comfortable environment that makes you feel right at home even while you're away.
Flexible Stays to Suit Your Schedule

Flexible Stays to Suit Your Schedule

We offer flexible booking options that accommodate your schedule. Whether you're planning a short getaway or an extended stay, our 2 bedroom short stay rentals are available for stays of 21 days or longer. Our team is here to assist you in finding the perfect accommodation that fits your travel plans.

The Longer Your Stay, The Less You Pay!

Blend of Luxury and Comfort

Our 2 bedroom short stay apartments in Melbourne provide cost-effective options for both short and longer-term stays. The longer you stay, the more affordable the rates become, allowing you to enjoy the comfort and luxury of our apartments without breaking the bank.
Explore the Essence of Melbourne CBD from a Prime Location
Choosing to stay at Melbourne Private Apartments is not just about enjoying a comfortable stay; it's also about immersing yourself in the vibrant soul of Melbourne. Our apartments are strategically located in Docklands, close to the heart of the city, giving you easy access to explore and experience all that Melbourne has to offer.
Our apartments provide you with a prime location for your stay. Close to Melbourne Central Business District and surrounded by the energy and excitement of the city, you'll find major attractions, cultural landmarks, and entertainment venues just a short distance away. Whether you're in town for a quick getaway or an extended stay, our central location ensures you're never too far from the action.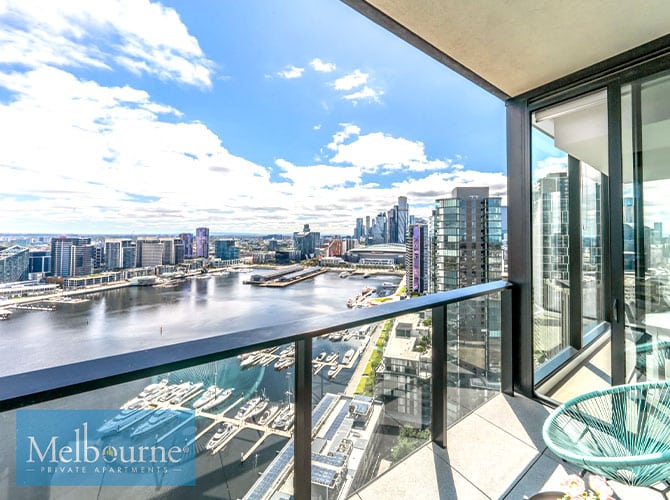 Easy Access to Iconic Landmarks and Amenities

Easy Access to Iconic Landmarks and Amenities

With Melbourne Private Apartments, the best of Melbourne is right at your doorstep. Our Melbourne short stay rentals are just a stone's throw away from iconic landmarks such as Crown Casino, Marvel Stadium, and DFO South Wharf. You'll also find a host of shopping centers, dining spots, and recreational facilities nearby. It's never been easier to explore and enjoy Melbourne's top destinations.

Connectivity to Transport and Essential Services

Connectivity to Transport and Essential Services

Staying connected is essential, especially when you're exploring a new city. That's why our short term rentals offer excellent connectivity to transport links and essential services. With the free tram zone and tram stations right by our properties, you can easily navigate Melbourne CBD and its array of attractions. Major shopping centers, restaurants, cafes, bars, and public transport are all within walking distance, making your stay as convenient and hassle-free as possible.
Ready to Book a 2 Bedroom Short Stay Apartment in Melbourne today?
Ready to experience the Melbourne Private Apartments difference? Whether you're travelling with family or friends, our spacious two bedroom short stay apartments offer the perfect space to relax, unwind, and make lasting memories. Check rates and availability online and book your stay today! We look forward to welcoming you to your new home away from home. Book your Melbourne short stay with us today.
2 Bedroom Short Stay Apartment Rentals